Bonny recently got some work done on the plunge pool at the
lake house
It is AWESOME! We headed over there after church last week to grilled out salmon and swim.
When we got there, HG needed to go exploring with miss dotty(a new stuffed animal compliments of Glam).
Checking out the pool. This didn't last long before she insisted on her bathing suit.
Making water handprints with Glam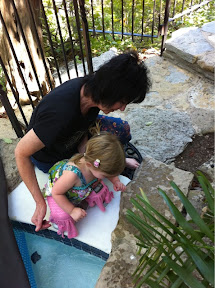 Seeing a helicopter.
Swimming with dad;)
Grilling... Thanks to Grandpa Ger for the salmon.