Have you ever had one of those shopping trips where you go for one thing and you leave with something completely different? Well, it happens to me ALL the time. For instance, HG and I went to Lowes to get some plants and we only left with one plant and this little fun thing.
I was trying to look around but Hadley wanted to get out of the cart and look for herself. Solution, grab the nearest child proof item and go with it;). This never left her hand from the moment I gave it to her. There was no way we could turn back and leave it. I wasn't sure of the cost, but I decided if its under $50, I'm ok with that. Well, it was actually only $11....we both won;)
This is her look when I tell her to say cheese.
When we moved our warehouse, it came along to help.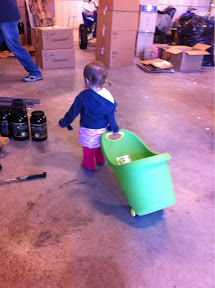 I was thinking this little green bucket will be awesome this summer. It can carry all our pool gear or picnic stuff. If you need a gift idea, it might be fun to personalize it and fill it will fun goodies;) Just a thought!