This week has consisted of lots of first. The biggest first was trying to get orders filled with HG right by my side...literally.
She was so loving and would play for a little bit and then run over to give me a hug. I laid out a big cardboard box for her to color on. She did color on it for awhile, but she then ventured off the approved space;)
This customer got a little extra love....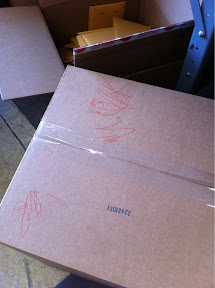 She was very tired from working so hard. She rarely sleeps in the car, so this was huge!
At the end of the day we got it all done and had fun doing it.