Yesterday, we loaded up and headed to Eureka Springs. We went over to spend some time with Bonny before Josh leaves on Saturday. We haven't been there in about 8 months, so it was really fun to take HG and let her explore. She had a ball. She would run around as fast as she could and just giggle. The farm is full of all kinds of fun things, like a Barkley..
Pretty flowers..
A pond with a stream...which she insisted on taking her clothes off to sit in the freezing cold water;)
Fish and frogs to look at...
And of course room to go go go!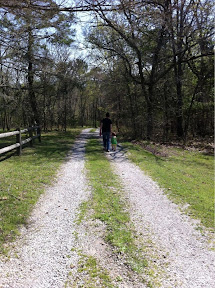 So many fun memories! We love visiting the farm!
Its getting closer and closer to Saturday and as much as I don't want it to come, I am so excited for Josh to get to go. So many mixed emotions, but bottom line, he will have a great, safe time, we will be missing him, but enjoying a lot of fun girl time;).
Off, to go enjoy some family time, I'll post more next week. Have a great weekend.
Be blessed, Meg